Moving day is a time of excitement, anticipation, and often, a bit of trepidation. But with the help of a complete moving checklist, you can rest assured that you'll be fully prepared for the big day.
From organizing your belongings to packing up your house, there's a lot to consider when it comes to moving. But don't worry, we've got you covered.
Our comprehensive moving checklist is designed to help you stay on top of everything, from the first steps of planning to the final details of unpacking. So whether you're moving across town or across the country, you can breathe easy knowing that you're ready for anything.
A moving checklist can make your transition smoother and more manageable. Sure, there will be moments of stress and chaos but, with proper planning, you can avoid unnecessary headaches.
The key is to start early and to break down the process into manageable tasks. Make a list of all the things that need to be done before moving day.
This includes notifying utility companies, updating your address, and decluttering. Remember, you don't have to do it all alone.
Enlist the help of friends or hire professional movers to make the process less daunting. With a comprehensive moving checklist, you can simplify your move and start your new adventure stress-free.
1. Pre-Move Preparation
Moving is often a taxing and unnerving experience for most people. You have to pack up your entire life and move to an unfamiliar place – it can be overwhelming.
Fortunately, with the help of moving organization tips, the process can be relatively straightforward and stress-free. Before you move, preparation is key.
Start by decluttering your home, so you're not carrying excess baggage with you. Develop a timeline for your move, so you stay on track and don't miss anything important.
Obtain multiple quotes from reputable moving companies, so you can find the one that is right for your budget and schedule. Whether you're moving across the country or just down the street, following pre-move preparation tips can help lighten your load and make moving easier.
2. Packing and Labeling Tips
Packing up your life into cardboard boxes can be overwhelming, to say the least. But fear not, dear reader, for we have compiled the ultimate packing and labeling tips for stress-free relocation.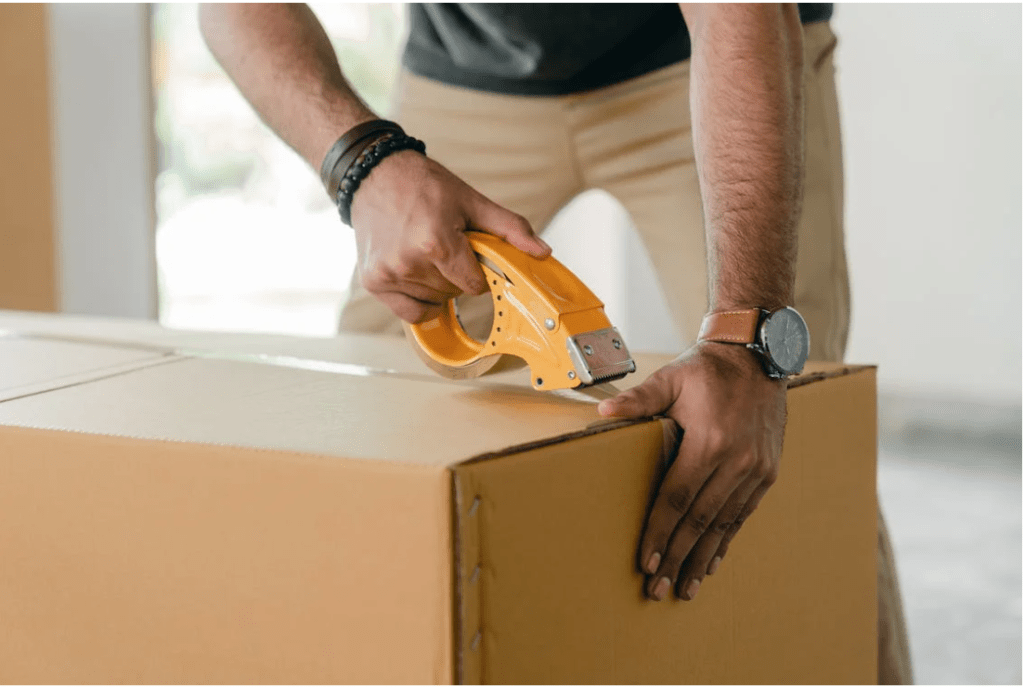 First things first, make sure you declutter your belongings before packing. The fewer items you have, the easier and cheaper your move will be.
Next, invest in quality packing materials such as boxes, bubble wrap, and packing tape. Label each box with its contents and the room it belongs in, this will save you time and confusion when unpacking.
Oh, and don't forget to label fragile items as such. Stacking boxes correctly can also save you headaches, place heavier boxes at the bottom and lighter ones on top.
And once you've finished packing, treat yourself to a glass of wine, you deserve it. For more in-depth packing and labeling tips, check out our Moving Planning Guide.
Happy moving!
3. Moving Day Essentials
When it comes to moving day, being prepared with the right essentials can make all the difference. From packing supplies to snacks, the small things can easily slip your mind as you focus on the bigger picture of relocation.
That's why we've compiled a list of essential items to help you stay calm and organized during your move. First things first, make sure to have plenty of boxes, tape, and wrapping paper on hand.
Labeling each box by room can also save you time and headaches when it comes to unpacking. Don't forget about the importance of staying hydrated and nourished – pack water bottles and easy-to-grab snacks like granola bars or fruit.
And for the ultimate stress-reliever, keep a playlist of your favorite tunes on hand to keep the mood light and upbeat. With these relocation tips for a smooth move, you'll be fully equipped to tackle your next adventure with ease.
4. Post-Move Checklist
Congratulations! You've successfully made it through the long and strenuous process of relocating your entire life – your furniture, your keepsakes, and your shoes (which you probably have way too many of). Now, you may be wondering what comes next.
How do you settle into your new place and start this exciting new chapter? Look no further, as our Easy Relocation Guide is here to help with a comprehensive post-move checklist. First, change your address with the post office and update all your accounts accordingly.
Don't forget to set up utilities and internet services. Then, prioritize unpacking your essentials and decluttering unnecessary items.
Get to know your new community, explore the area and make new friends. Finally, take some time to relax and enjoy your new home without stressing about the boxes piled up in the corner.
With our guide, your post-move journey can be just as seamless as the move itself. Happy settling in!
The Movers MD: Your Top Choice for a Seamless and Stress-Free Move in Maryland
Moving can be an intimidating experience that brings a lot of changes to your life. The Movers MD is the best Maryland moving company equipped to help you with your move.
With their highly trained professional movers, you can rely on them to handle your household goods with utmost care. Moving is a demanding task that requires a comprehensive checklist.
The Movers MD can assist with the whole gamut of moving-related activities which starts with a complete moving checklist. They can help you pack up everything in your home, including the fragile items, and label them to ensure their safe arrival.
They can also provide you with high-quality packing materials to keep your valuables in good condition. On the big day, The Movers MD's fleet of well-maintained vehicles will transport your belongings to your new destination in a timely and organized manner.
Contact The Movers MD today to make your move as seamless and hassle-free as possible.
Conclusion
Moving is one of life's biggest stressors, but with a complete moving checklist, you can alleviate some of that anxiety. Whether you're relocating to a new city or finding a new apartment, there are countless details to consider.
Don't forget to notify your utility companies of your move, change your address with the post office, and hire a reputable moving company. Make sure to pack your belongings securely and label all boxes to help with the unpacking process.
Moving day may be hectic, but a well-organized checklist can make it run smoothly. Remember to take a deep breath and enjoy the next chapter of your life in your new home.